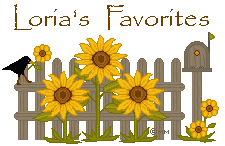 I thought it would be appropriate to tell you
about some of Loria's Favorites.
Loria appreciated the simple beauty of a sunflower and it was easily her favorite flower.

Sports
Loria loved sports and participated in many. Be certain to view her sports-related photo album and scrapbook.


Friends
Loria loved being surrounded by friends. If you were truly her friend, thank you.




Vinegar
Loria loved vinegar. She would pour vinegar on just about any food before eating it. Her all-time favorite would have to be cucumbers in vinegar. She purchased vinegar by the gallon. If anyone truly knew Loria, they knew she loved vinegar.

Movies
Loria loved movies. She could watch movies on TV for hours! And she was the movie theater's best customer! She maintained a list of 'Movies I've Watched' and 'Movies I Want to Watch'. Her movie-watching buddy was her friend, Chewy. The last movie that she rented was the award winning film, O' Brother, Where Art Thou?.

The Dave Matthews Band
Loria loved Dave Matthews. She had all of his CD's, knew all the words to his songs, and saw him in concert seven times. If he was anywhere in North Carolina, Loria was there with him. She would have loved his 2002 release titled, Where Are You Going. Click here to hear the music clip.




Roxy/Quiksilver

Loria loved the Roxy and Quiksilver offering of surf, ski and
casual clothing, boards and accessories. She had the Roxy logo
everywhere. She adopted a puppy from the SPCA and of course
she named "him" Roxy!


Music & Concerts
Loria loved music and her taste was diversified. She also enjoyed attending concerts. Without a doubt, her favorites were the Dave Matthews Band and Dixie Chicks, but had been to many others including Tim McGraw, Faith Hill, Goo Goo Dolls, R.E.M., Poison, Jimmy Buffett, Fiona Apple, Chicago and George Strait. The first concert that she attended would have been Garth Brooks at the Dean Smith Center in Chapel Hill during October, 1992.